ABB can help you understand how the difference between mass and volume flow can directly benefit your business's bottom line. Including:
The nature of the relationship between Mass, Density and Volume
How compression affects the measurement of gases and steam
How to choose between volumetric or mass flow
The differing meter types to provide control over energy management
Download our whitepaper or watch our video now.
Mass Flow Measurement Animation
Mass or Volume? Watch our brand new video to find out how mass flow measurement may be the new solution your business has been looking for.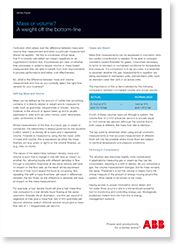 Mass vs Volume
Whitepaper
For a bite size overview of the differences behind using mass flow measurements and the benefits this could bring to your company, download our whitepaper now.